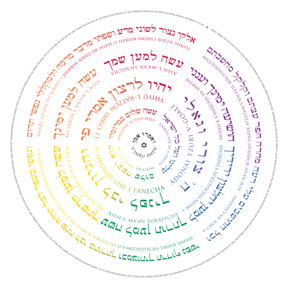 Finished size (unframed):
11"x11" square
Digitally printed on 100lb white text stock.
Elokai Ntzor
This text is a "meditation" that comes after the Amidah in the prayer service. Having pondered the rhythms in this text (which are one of the aspects that make it 'meditative' for me) for a long time, I came up with this mandala-style arrangement interwining the Hebrew text with its transliteration.

The outermost ring is the English translation:
My G-d, guard my tongue from evil and my lips from speaking lies. To those who curse me, let my soul be silent, and let my soul be like dust to all. Open my heart to Your Torah and my soul will pursue Your commandments. All those who wish me evil, quickly frustrate their counsel and disrupt their designs. / Do it for Your name, do it for Your right hand, do it for Your holiness, do it for Your Torah, for the good of Your beloved, let Your right hand save and answer me. / May the words of my mouth and the meditations of my heart find favor in Your sight, O Lord, my Rock and my Redeemer. / The One who makes peace in the heavens will make peace for us and for all Israel. / Amen.

I also have a smaller piece focusing just on the closing Oseh Shalom passage.

To Order:
All prices include FREE standard shipping within the US.