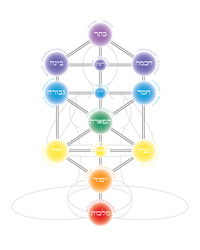 Click for larger view:
Hebrew only
Hebrew and English
Finished size (unframed):
8"x10" vertical
Digitally printed on 100lb white text stock.
Chakras/Tree of Life
According to Kabbalistic (Jewish mystical) tradition, there are ten levels or channels of Divine energy known as the sefirot, or "spheres". These are conventionally represented in a hierarchical arrangement popularly known as the "Tree of Life", progressing from Malchut ("kingdom", the most earthly) inward and upward to Keter ("crown", the most celestial).
According to traditional Indian medicine, the seven chakras are energy centers of the human body, represented as aligned along the spinal column from root to... crown.
There's a lovely short piece on NeoHasid.org about the correspondences between the two systems. When I tried mapping them onto a sketch of the human body, I was delighted (but not too surprised) to find that they fit perfectly.
To Order:
All prices include FREE standard shipping within the US.
HEBREW ONLY:
HEBREW AND ENGLISH: