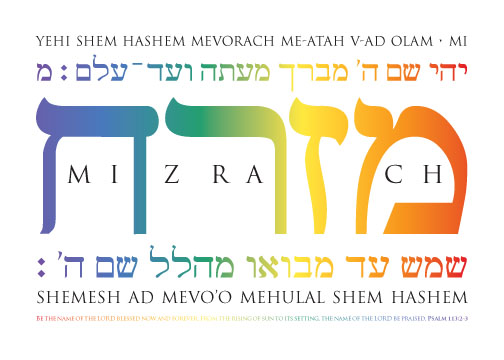 Click for larger view
Finished size (unframed):
5"x7" horizontal
Digitally printed on 100lb white text stock.
Rainbow Mizrach
Mizrach is the Hebrew word for "east"; the word denotes "sunrise". Traditionally, in Judaism, one prays facing east (equated with the direction of Jerusalem, though it is unclear whether one should adjust to reflect one's current geographic reality). Thus, it has become a custom to hang a reminder (also known as a mizrach) on the eastern wall of a room.
This piece uses two verses from Psalm 113, in which the word mizrach appears: "Be the name of the LORD blessed now and forever. From the rising [mizrach] of the sun to its setting, the name of the LORD be praised."
To Order:
All prices include FREE standard shipping within the US.