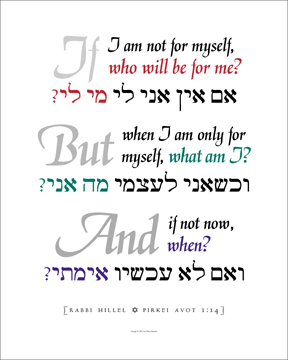 Finished size (unframed):
8"x10" vertical
Digitally printed on 100lb white text stock.
If I am not for myself, who will be for me?
But when I am only for myself, what am I?
And if not now, when?
(Pirkei Avot 1:14)
This quote from Rabbi Hillel is one of the most cherished aphorisms in social-action and personal-growth contexts, as well as in Judaism generally.
My earliest version of this piece was a handmade version for my dad in 1994.
To Order:
All prices include FREE standard shipping within the US.